Facts for the Visitor
Visas
US citizen:

In the US: 4-year multiple-entry visa: US$45
In Bishkek: 1-month single entry visa processed in 1 day: US$65 & Ks 100 consulate fee.
Required Letter-of-Invitation takes 7~10 days. OVIR registration is required at every stopover in Uzbekistan.

Japanese citizen:

In Bishkek: 1-month single-entry visa processed in 10 days: US$0 & Ks 100 consulate fee.
Letter-of-Invitation is not required. OVIR registration is required at every stopover in Uzbekistan.

Language Skills Needed
Many people in tourist related industries speak English. Knowing numbers and how to say "how much?" in Uzbek and Russian is needed to ride transport, shop at markets, and eat at local restaurants. Learning the Russian and Uzbek Cyrillic Alphabets is needed to read street signs and recognize the telecommunications office, supermarkets, and mini-marts (magazines). A phrasebook is convenient but not essential.

Cash Machines

Currency & Currency Exchange
Bank rate: US$ 1 = Us 1080 (Uzbek sum) on September 3, 2002.
Black market rate: US$ 1 = Us 1220 (Uzbek sum) on September 3, 2002.

Electricity
220V, 50Hz. Electrical outlets are for mainland European parallel round pin plugs.

Health
International Certificates of Vaccination are not required.

Tips

Telephones
Public telephones take Us 10 coins. To make a domestic call, dial "8" before the area code.

To call from a telephone office, be sure to have a Russian speaker with you. The process is to yell the city name and phone number to an operator who sits 5 meters away inside a barricaded metal cage. A phone rings in a nearby booth and the operator yells which connection is made. Some phones have a white button that must be pushed after the called party answers the phone. Pay after completing the call.

The international access code is 00. Neither collect call nor connection to a US calling card number (AT&T, Sprint, etc) is possible.

Internet
Every city has a 56 kbps connection for between Us 1000~4500 per hour. Internet hours tend to be limited to 09:00~17:00, or sometimes later in big cities.

Lodging
Budget and mid-range accommodation is found in any city. Luxury accommodation exists in big cities. Every night of stay must be registered with OVIR. Verify that the hotel will register your passport before you agree to stay. A strip of paper with hotel name, your passport number, and the dates of stay is provided for your keeping. At the time of departure from Uzbekistan, customs will fine a traveler without these proofs of registration. Proof must be provided when flying out of Tashkent. Travelers going overland from Uzbekistan to Kyrgystan report not being asked for proof of registration on departure.

Transportation
Buses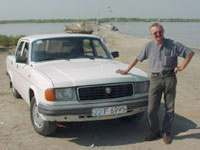 and shared taxis are the most economical form of transportation. Planes fly between Tashkent, Samarkant, Bokhara, and Urgench daily for about US$50 one-way. Trains between Tashkent, Samarkant, and Bokhara are slightly more expensive than planes. Buses are cheap. Fare for the 18-hour ride from Tashkent to Urgench is about US$3. Shared taxis between from Tashkent to Urgench charge about US$10 per person. A hired private car for the same distance is about US$60~80. We can highly recommend Alexander "Sasha" Tokarev in Urgench (pictured to the right) as a private driver for trips between cities or multiple-day tours around the country. Sasha speaks English and can be reached at (Mobile: +998-62-226-0789, Home Tel: +998-62-225-6796, Home Fax: +998-62-226-5213)
---
---
Copyright © 2000-2002 Wes and Masami Heiser. All rights reserved.