From Dubrovnik we intended to travel north to Hvar Island and the city of Split. The tourist information office in Dubrovnik claimed the bus ride to the Hvar ferry port in Drvenik would be 2 hours. We budgeted 3 to be safe. In fact, the bus took just over 3 hours and we missed the 13:00 ferry. Standing in the rain at the ferry ticket window and still annoyed at the leisurely pace taken by the bus driver (15 minute breaks every hour??), we knew we had 2¾ hours to kill before the next ferry departure. It was lunchtime. "Is there a good fish restaurant in this village?" The ticket seller pointed us 150 meters down the shore to Bukara Restaurant. We couldn't have been luckier. Forget Hvar Island. Drvenik was exactly the peaceful, relaxing place we were looking for.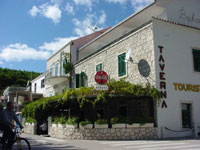 Bukara Restaurant and Apartments.
The seafood at Bukara Restaurant was some of the freshest and most flavorfully prepared we have tasted. It made other seafood restaurants seem amateurish. Out came 2 varieties of fish, scampi, calamari, and muscles all prepared separately with distinct flavoring and arranged together beautifully on a large platter. The waiter, it turned out, was the son. Grandma was the chef. Dad ran the business (the restaurant, apartments above it on the third floor, a travel agency, and 14 or so properties) through his own company. Bukara, meaning wooden wine cup, is the name of all the businesses.
Directly in front of Bukara are palm trees, a white peddled shore, and the Adriatic Sea. The apartment's balcony has an direct view of the shore. We fell in love with the place immediately.
The next day, Dad Nikša had business in Split, 80 km north. He offered us a free ride there and back with 5 hours in the city. Split being the 2nd highest visit recommendation only after Dubrovnik, we happily accepted. Split has a walled palace similar in feel but much smaller than Old Town Dubrovnik. About 1 hour is sufficient to see all point of interest in the palace. We used the remaining time to collect information on alternate transport options from Croatia to France. Armed with a Lonely Planet Corsica guidebook found at an English language bookstore within the Palace grounds, we consulted ferry timetables and train schedules over the Internet. Reading about hikes in Corsica, we were easily swayed to head directly there, skipping Slovenia. For the fifth time since China, we chart a more southerly route to France.
GETTING THERE
Hourly buses between Split and Dubrovnik stop at the roadside bus stop above the village of Drvenik.