Facts for the Visitor
Visas
US citizen:

The Chinese consulate in each country does things differently.
In Bangkok: 30-day single-entry visa processed in 1 day: THB 1300 (US$30)
In Hanoi: 90-day single-entry visa processed in 5 days: US$30
In Hong Kong: 90-day single-entry visa processed in 3 days: HK$150 (US$20)

Japanese citizen:

Same as for US citizen.

Language Skills Needed
Many areas only speak Chinese. A Chinese phrasebook with Chinese pronunciation and characters is immensely helpful. People who know Chinese characters from Japanese or Korean can communicate rudimentarily in written language.

Cash Machines
Almost all cities have a Bank of China with an ATM connected to Plus, Cirrus, and Maestro international networks. The ATM dispenses local currency. In Hong Kong, HSBC ATMs are also connected to international networks.

Currency
US$ 1 = ¥ 8.26 (Chinese Yuan) on July 1, 2002.
US$ 1 = HK$ 7.8 on July 1, 2002.

Electricity
220V, 50Hz. Electrical outlets accept US/Japan parallel flat pin plugs, mainland Europe round pin plugs, and Australia/New Zealand slanted flat pin plugs.

Health
International Certificates of Vaccination are not required.

Tips

Telephones
Public China Telecom pay phones are found even in the most remote towns. Some phones only accept coins and most only accept IC telephone cards. In addition, telephone calls can be made from most kiosks, though the cost is higher than at a public pay phone.

Kiosks and mini-markets sell IC and IP telephone cards in ¥30, ¥50, and ¥100 denominations. Do not purchase an IP card because finding a telephone that accepts the IP access number can be impossible - in fact, they often don't exist. China Telecom IC card telephones are available everywhere, even in the most remote places. Calls are cheap. International calls on IC phones can be as little as ¥1 per minute. Domestic calls are a fraction of ¥1. The ¥30 IC card gives sufficient calling time on your visit to China.

Internet
Every city has a high speed ADSL Internet point. Prices are usually ¥2 or ¥3 per hour. Web sites considered pornographic, violent, or anti-Chinese policy are blocked.

Lodging
Most areas of China no longer have restrictions on where foreigners can lodge. Accommodation ranges from cheap Chinese-style hotels (about ¥10-¥25 per person) to luxury hotels (up to several thousand ¥ per night). The midrange price for a plush comfortable 3-star hotel is about ¥150 per room. Budget accommodation is generally clean and safe in the ¥25-¥50 per person range.

Transportation
Transportation in China is plentiful. Bus and train tickets can be purchased in advance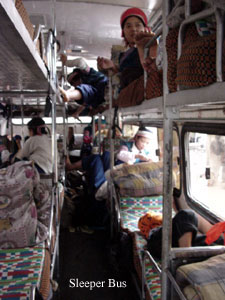 or on the day of travel (provided the seats don't sell out). Seats are assigned except on the absolute cheapest fare. Long distance buses and trains typically have sleeping berths.

TRAINS
The quality of long-distance train differs greatly between more expensive express and cheaper slow train. The shorter the train number, the faster the speed and the greater the comfort. For instance, a K14 train will be fast, prompt, air-conditioned, mostly tobacco smoke-free, and have clean sleeping-berth linens and a comfortable dining car. A T812 train will be fast but stop more frequently, suffer some delays, be air-conditioned, be mostly tobacco smoke-free, have less frequently changed sleeping-berth linens, and have a comfortable dining car. A 4-digit numeral train like the 1148 is asking for misery. It's much slower, gives right-of-way to the faster lower numbered trains resulting in greater delay, has no air-conditioning, is filled with tobacco smoke, hasn't been cleaned since its construction 3 decades ago, and is serviced by revolting greasy-haired attendants whose idea of cleaning is to toss trash out the moving train window. Overall, riding a hard-seat on a K or T train overnight is more appealing than securing a sleeper on a 4-digit train, even when considering a stiff neck having slept sitting upright. All trains have toilets and a tank of boiling potable water at the end of each car. Locals carry aboard instant cup-noodles and tea thermoses and take huge advantage of the on-board boiling water. Foreigners learn to do the same in no time. Most long-distance trains also have a dining car that shuttles food vendors up and down the length of the train.

BUSES
In general, the buses carry floor-spitting chain-smokers. Very few are air-conditioned. On slim occasion, a higher-priced bus will have air-conditioning and fewer hillbilly chain-smokers. When buying a bus ticket, ask if a more expensive bus services your route of travel. The level of increased comfort more than makes up for the higher cost. Buses stop for toilet breaks and meals about once every 3 or 4 hours. Schedules are only in Chinese. Carry a guidebook with place names in Chinese to compare the characters between your book and the schedule posted above the ticket windows of any bus station.
---
---
Copyright © 2000-2002 Wes and Masami Heiser. All rights reserved.